N3C OVERVIEW & BACKGROUND
The North Country Climbing Center (or N3C for short) is the ONLY full-service climbing gym serving the White Mountains of New Hampshire and the Northeast Kingdom of Vermont.
6,000 square feet of climbing
You have to see it to grasp the scale. N3C is not a "climbing wall" – it is a full-size, state-of-the-art climbing gym.
Varied terrain for all ages and abilities
Low angle slabs, sustained steeps, big overhangs, dihedrals, lead-only roofs, etc. etc. We have it all!
Roped climbing up to 4 stories high
More than tall enough for you feel the exhilaration of rock climbing.
Auto belays
You don't need a belay partner to climb some of our best full-height terrain. We move our TruBlue auto belays around regularly and ensure that they service beginner through expert terrain.
Top roping
25 top rope stations covering a wide variety of climbing.
Lead climbing
Experienced climbers can lead climb all of our steeper walls. We have Fixe Hardware steel permadraws for lead protection and Super Shuts for lead anchors.
Dedicated bouldering
N3C's bouldering area includes terrain for all levels of climbers, including a prow that overhangs 12 feet in the 14 feet it rises off the padded floor and a 45 degree wall. The entire floor of the bouldering area is covered by a 13 inch thick, seamless flooring system. We do not have any "drag pads."
Nationally certified instruction
Our instructors are passionate about climbing, know their stuff, and love to share their craft. Many of our instructors have CWA CWI (Climbing Wall Association Climbing Wall Instructor) certification and/or AMGA (American Mountain Guide Association) Climbing Wall Instructor certification.
Open Climbs
Want to just come and climb even if you don't have a belay partner or know how to belay? Then our Open Climb package is perfect for you! It includes everything you need to climb: a day pass, full rental gear, and skilled N3C staff to provide you with belays. We hold open climbs every weekend and holiday from noon to closing. You can also schedule an open climb in advance on any other day of the week.
Tourists welcome
We love our local climbers, but we are great for out-of-towners looking for a great climbing gym!
Rental gear for adults and children
We offer high quality rental gear from Mad Rock, Petzl, and Misty Mountain for climbers of (nearly) all ages and sizes. We rent climbing shoes from kids size 11 up through men's size 15 and harnesses for young children as light as 30 pounds as well as for adults of all shapes and sizes.
Birthday parties
Rock climbing birthday parties are great fun for groups of all sizes and climbers of all ages. Our birthday party packages includes plenty of climbing for everyone as well as time in a party room for presents and refreshments.
School programs
N3C is a great place for your school group to learn to climb or to come and train. We can host a single visit or provide a season-long climbing program. Either way, you can be confident that your students will get high quality professional instruction.
Private Events
Looking for an awesome venue for a memorable event? Rent N3C for a private climbing party!
Year-round climbing
The North Country is blessed with some of the best climbing terrain in the country, from the big wall climbs on Cannon Cliff to the sport-climbing mecca that is Rumney. But our weather can charitably be called fickle. The winter is long and often quite cold. The mud season is often wet and, well, muddy. Rain, heat, or black flies can make it tough to climb outdoors sometimes during the summer. And while the autumn is generally pretty amazing, unexpected snow, rain, or ice can make climbing outdoors a challenge then, too. Thankfully, N3C provides fantastic indoor rock climbing all year round!
History
N3C was founded in 2014 by Rusty and Jessica Talbot. Design of the facility started in March, construction began in July, and we opened for business on October 26th.
We conducted a comprehensive request for proposal (RFP) process to determine the best wall builder for N3C, during which we received proposals and initial designs from Walltopia, Rockwerx, Eldorado Climbing Walls, Entre Prises, and Leading Edge Climbing Walls. After extensive research and analysis we chose to work with Leading Edge Climbing Walls because of their professionalism, attention to detail, exceptional craftsmanship, flexible approach to designing and building walls, and personal interest in implementing the right walls for us.
N3C is a member of the Climbing Wall Association (CWA) and attended the 2014 CWA Summit (annual industry conference) in Boulder, Colorado. Our walls were built to CWA engineering standards.
Mission
The mission of the North Country Climbing Center is to be both the epicenter of and a strong catalyst for climbing and adventure in the region.
Our modern indoor climbing gym provides fun, challenging, and exciting experiences for climbers of all ages and skills.
We know that there is much more to climbing than just the physical movement up a wall.
We foster an inclusive community that forges trust, friendship, and a sense of belonging.
We aim to inspire and challenge all members of our community to have the skills and confidence to tackle new adventures in our gym, in the mountains, and throughout their lives.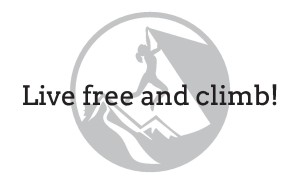 Visitor and Liability Release Agreement
All visitors, whether they are climbing or not, must complete a Visitor Agreement. Any visitor under the age of 18 years must have their parent or legal guardian sign their form. You can either fill out when you arrive or download it, print it off, sign it, and bring it in.
Please write legibly! We actually do read and transcribe all the information from the form into our customer database.
Also, note that the signature space is on the second page.